Garden Centre Marketing Solutions
Reuthe's The Lost Gardens Of Sevenoaks
Case Study
Reuthe's are historical gardens in Sevenoaks that specialise in organising outdoor activities such as children's events, weddings and treks through the woods with their signature Alpaca experiences. 
The gardens are a stunning restored landscape dating back to the 19th century providing breathtaking views over the Sevenoaks countryside and an impressive array of exotic plants, shrubs and trees. 
Reuthe's the lost gardens of Sevenoaks approached us as one of the many businesses heavily injured by the COVID-19 pandemic. Unfortunately, the footfall for the gardens, ticket revenue, and overall online presence were very low.
They approached us with the initial interest in raising their social media profile with no revenue currently coming from online sales; this is something the team at Reuthe's wanted to change.
The team had tried to improve their social channels in-house but had yet to be able to strum up visitors to the gardens. Our task was to help them establish an initial audience and help the team create content and feed it to this newfound customer base from the local area.
We reviewed Reuthe's current approach and created an entire social media content strategy that involved the scheduled release of regular, valuable content on multiple platforms. Initially, the client only wanted to use Facebook. However, we quickly implemented Instagram and Twitter after showing them the benefits of being accessible in multiple locations.
We discussed the brand and values with them, creating a unique visual language that could be utilised across multiple platforms. In addition, we worked closely with Reuthe's to create content that spoke directly to their target audience. 
The goal was to create an emotional connection between the potential visitor and the gardens.
After proving ourselves with our highly efficient social media services, the client requested search engine optimisation. Therefore, we have developed a local SEO strategy to drive traffic directly to the website and foot traffic to the site. We focused heavily on local traffic due to the nature of the client's business and directly impacted the onsite café revenue.
We worked with the client to help retain customers with marketing consultancy providing ideas on how to encourage newly won customers to return to the gardens. 
Garden Centre Marketing Results
The results were immediate. After only two months, the organic traffic to their website doubled, and their social media following has grown by over 20 times; Thats the power of digital marketing!
Reuthe's the lost gardens of Sevenoaks received an influx of new visitors and potential customers while they were on a tight budget. Our team was able to develop content and strategies that could be scaled and adapted over time to ensure the client was continuing to get maximum return on investment.
The gardens are now a popular destination for locals and nearby tourists who were made aware of the gardens through our social media campaigns. We have also helped them build relationships with influencers who can help spread their message, thus driving more traffic to the gardens.
We are incredibly proud of the success that Reuthe's the lost gardens of Sevenoaks has seen, and we believe our work has been instrumental in helping them to rise from their initial struggles caused by the pandemic.
The revenue generated from the site has increased by 542% in 2020.
Traffic to the website has increased by 184%. A significant portion of this increase comes from Google alone.
Returning customers increased from 9.24% to 23.44%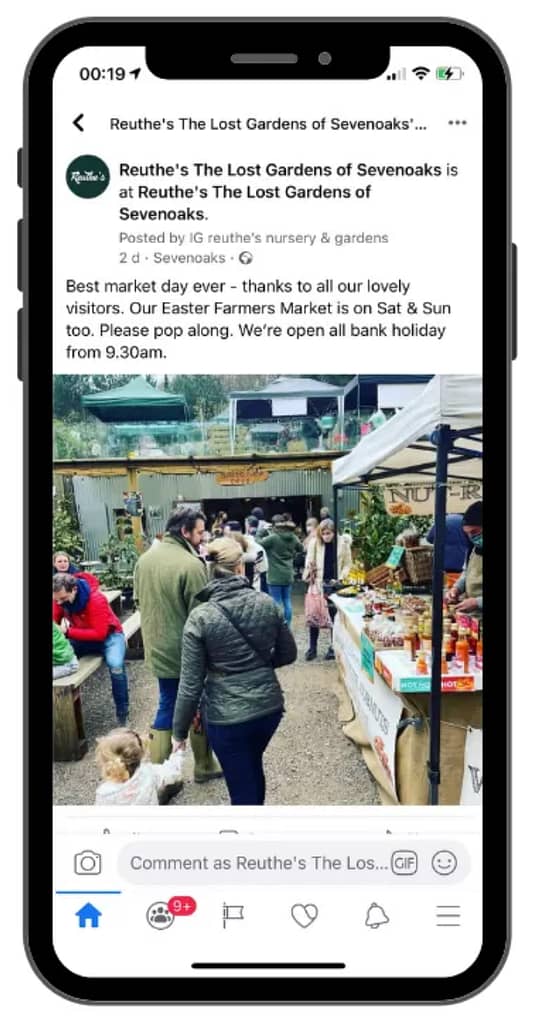 We love learning about new ideas and helping you achieve your goals by building sustainable strategy weather that is branding to seo to general marketing. We look forward to chatting with you.