Tracking the performance of social media campaigns can give you greater insight into how their audience is engaging with and reacting to content and help in crafting more effective campaigns in the future by identifying the types of content that perform the best.
Did you know 58% companies find it challenging to assess their ROI. As a result, they often fail to get the most out of their social media campaigns because they don't know what's working and what's not.
Although the remaining 42% feel that it has limited impact, they still find that it requires management. And perhaps with a more effective analysis of their campaign results, they could find ways to derive an even bigger impact through their social media efforts.
Measuring campaign results will help you understand what to optimize, where you're making mistakes, and more. So, in the following list, we'll walk through some of the ways to track your social media campaign's performance.
1. Track Your Engagement Rate
The first thing you can track is the engagement rate for your campaign-related posts. This will help you understand how responsive people are to the content, giving you a fair idea of what appeals to them. You can then optimize your campaign using the type of posts that have higher engagement rates.
On Facebook, you can view this data by clicking on "Insights" at the top of the page.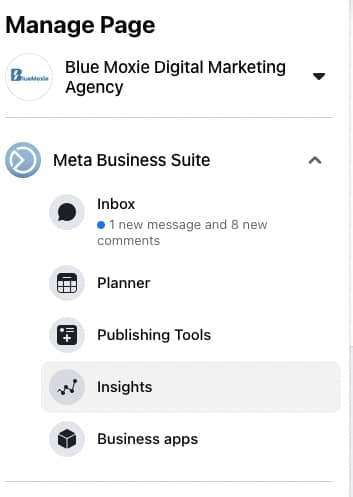 Under this section, you can see the number of engagements for each post.
What's great about Facebook is that you also get to see the different kinds of reactions on each post, giving you a better idea of whether people liked, loved, or hated the content.
On Twitter, clicking your profile icon at the top of the page will pull up your "Account Info" on the right. From here, click on "Analytics" to access your data.
The next page will give you an overview of your performance during the month such as tweet impressions, profile visits, followers gained, etc.
Click on "View all Tweet activity" under your "Top Tweet." Here, you'll be able to get a clear idea of how each individual Tweet performed in terms of impressions and engagement.
As an example, the image above shows the engagement rate for two different posts over a period of 30 days.
By determining the engagement rates on specific posts, you can optimize your campaign to include only content that appeals to your audience.
2. Track Your Reach and Impressions
How many people did your campaign reach? Looking at your number of impressions will help you understand your campaign's impact on brand visibility both within and outside of your existing audience base. This way, you can understand how much value you're getting out of your investment.
Your reach and impressions also give you some insight into how engaging your posts are. When people interact with your posts, their activity might show up in their connections' feeds and increases your reach. So, a more expansive reach and a higher number of impressions usually mean that your posts are engaging your audience.
On Facebook, you can view your post reach by clicking on "Reach" under "Insights", demonstrated in the image below.
This view will show you how much reach you garnered for both organic and paid posts.
On Twitter, you can find an estimate of your total Tweet impressions in your Analytic summary at the top of the page.
As shown in the image above, Twitter also measures the percentage of increase or decrease in impressions.
On both Facebook and Twitter, this data allows you to understand how successful your campaign is reaching your audience, driving engagement, and generating interest in your brand.
How do you measure the success of your Facebook Advertising campaign
With over 145 metrics to examine, Facebook reporting provides marketers a wide range of information. However, when it comes to determining whether or not your Facebook advert id preforming well or not. Allowing plenty of data that your facebook advertising manager can ensure your ad spend is being used as effectively as possible.
To help you understand the business impact of your Facebook ad campaigns, here are the seven main metrics that every business should monitor and measure to ensure the success of ads campaigns
Impressions
This is the total number of times your ad has been seen. Brand recognition for your firm will go up if you have more impressions. Brand awareness is one of the most important things you can do to improve your marketing efforts. If you're looking to reach out to new people, spread your message, and be remembered.
Clicks
This is the number of times people have clicked on your ad. Clicks are a way to measure customer engagement and level of interest. The number of clicks tells you how many times people came to your website because of your ads. These are people potentially making buying decisions.
Reach
This is the number of people who have seen your ad at least once. Facebook Ads provides businesses with a way to reach out to new potential customers. The Facebook algorithm chooses which users see your ad based on interests, demographics, and other factors.
Further social media reading: Does my business need social media marketing
Tracking Social Media Campaigns Is Worth Your Time
These are some of the metrics and tools you can use to measure the performance of your social media campaigns and gain a better understanding of your audience.
You can dive deeper into the metrics above to identify common elements in successful campaigns and unsuccessful ones. That way, you'll know exactly how to optimize your future campaigns and generate a better ROI.
If you are looking for support with your social media management, check out our packages designed for all types and sizes of business, Analytics included Click Here